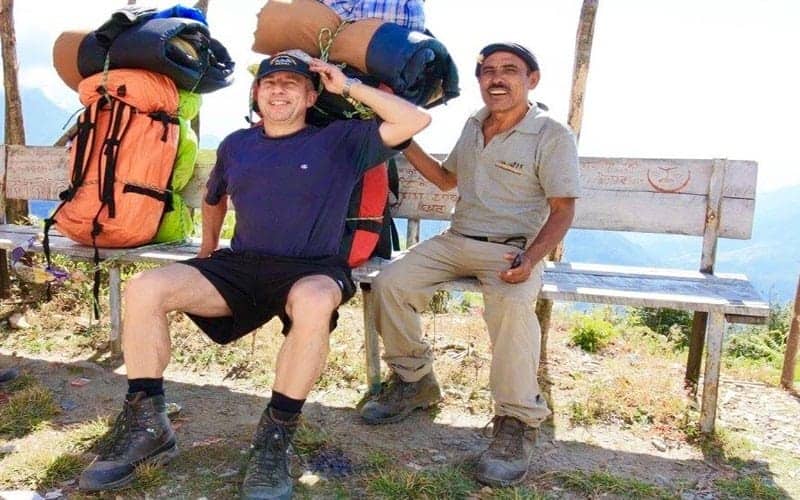 Be a Sherpa Porter in an Everest Base Camp trek
The life of a Nepalese Sherpa has long been considered exotic and exciting: Sherpa Porters live their lives on the mountain, carrying the luggage of travelers hoping to glimpse the incredible views and altitudes that the Sherpa's are able to enjoy almost every day. Sherpa's live their lives high in the Himalayas and their lives are tied to the mountains.
The youngest person to ever reach Everest's summit was a Sherpa boy named Temba Tsheri who was just 16 when he reached the peak in 2001. One of the most famous Sherpa's though is Tenzing Norgay who, alongside Sir Edmund Hilary, became the first person to reach the mountain's summit in 1953. It is famously said that Norgay did everything that Sir Edmund Hilary did, but whist carrying a tremendous weight at the same time.
The knowledge and strength of the Sherpa's on Mount Everest is the stuff of legends. We use a wide range of Sherpa's on our treks, with one Sherpa Porter being responsible for carrying the luggage of two of our customers.
Take The Sherpa Challenge
If you would like to experience the life of a Sherpa and become a real Sherpa Porter on an Everest Base Camp Trek then we now offer this experience to our most adventurous customers who are booked to enjoy an Everest Base Camp trek.
When you are ready with this unforgettable adventure experience, we will give you a basket of trekking supplies to carry on your trek in order to experience the Sherpa Porter life. The basket will weigh up to 25 kg, and in order to successfully complete the challenge you will need to carry the basket at least for 30 minutes.
Once you have enjoyed your experience as a Sherpa Porter, and successfully completed the challenge, we will give you a certificate from the company confirming that you completed your Sherpa Porter mission. We will also offer a T shirt as a gift from our company which reads: "I was a Sherpa Porter in Nepal" if you manage to carry the basket of supplies for the full 30 minutes. Will you be strong enough? Who knows, maybe this fun challenge during your time at Everest Base Camp could be the start of a brand new career path!